Plastic 20 gallon pots - Wilson Garden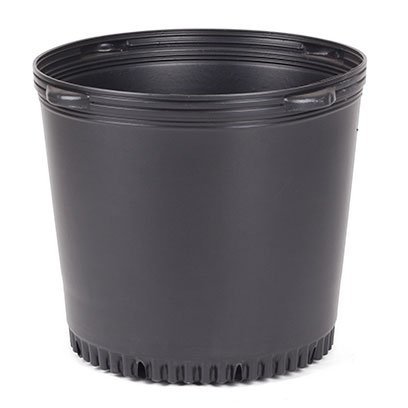 Plastic 20 gallon pot dimensions: 20 inch / 51cm (Top Diameter) x 16.93 inch / 43cm (Bottom Diameter) x 17.72 inch / 45cm (Height).
Our blow molded nursery pots are ideal for planting trees, shrubs, cannabis, perennials and tropicals at a cheap price.
· Material: HDPE. These black round 20 gallon plant pots can be used in greenhouse, indoor and outdoor.
· 20 gallon plastic pots OEM or ODM is available. If the order quantity is large, we will refund the mold cost.
· These 20 gallon garden pots are Eco-friendly. Efficient bulk packaging available for high volume users.
· UV protected to ensure long-lasting quality. You can use premium 20 gallon pots for plants many times.
· 20 gallon pots with handles have drainage holes on the bottom, allowing drainage and aeration of the soil.
· 20 gallon flower pots are suitable for kinds of soil and growing media, such as expanded perlite, vermiculite, etc.
· Strong pot rims designed for easy pot de-nesting for handling in both automated and manual potting systems.
· Ribbed sides make 20 gallon planters a tough lightweight alternative to the injection molded nursery container.
We do not have MOQ if we have stock. If we do not have any stock, the MOQ is up to the product. Different product will have different MOQ.
If you are interested in 20 gallon nursery pots, please contact vincentwilsongarden@gmail.com for free samples and best offer, buy more save more!
We are a professional nursery plant pots wholesale supplier, we will give you the best service from sending us inquiries to after-sales. If you have any problems or need any help, please feel free to contact us, we will give your best 20 gallon nursery pots wholesale solution.
Our 20 gallon grow pots are exported to countries all over the world, such as USA, Canada, UK, Ireland, Australia, NZ etc. We being reliable 20 gallon planter manufacturers, always focus on customer satisfaction, so you will work with us completely satisfied!
We've been manufacturing a broad range of 20 gallon plastic nursery pots for many years now. The diversity of our product offerings means our clients have a single source for all their 20 gallon plastic planters needs.
There's more to us than simple product diversity. We enforce some of the highest quality assurance processes in the industry. Whether any 20 gal pots that you require – you're assured that the product you buy from us is of the highest standards.
Welcome To Contact Us For Best Offer and Free Samples! Please Feel Free To Send Your Any Questions Details Below. Click "Send"!